Portable Toilets in Clovis, NM
Mighty Clean Portable Toilets is proud to offer superb customer service in the septic pumping and portable toilet rental industry. Since our humble beginnings nearly 20 years ago, we've become specialists in the porta-potty business. Our goal is to offer our customers the best options, with the best service, at the best price.
Porta-Potties & More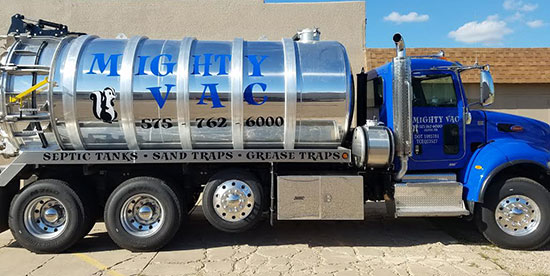 We know that there are several reasons for needing a porta-potty in Clovis, NM. We also know that you want the rental process to be swift, simple and affordable. So, whether you're in charge of a large construction site, are in need of restroom facilities for an outdoor town celebration, or just want to keep the traffic from your family barbeque outdoors, we have a unit that's perfect for you! We've been in the industry for over 20 years now and hold ourselves to a high standard of quality and transparency. You'll find that our units are clean and sanitary and designed with aesthetics in mind.
We also offer septic work using high-quality and powerful equipment. No matter the type of septic system you have, it will eventually need to be emptied. Trusting Mighty Clean Portable Toilets with your septic needs ensures that the pumping will be done correctly and in a timely manner. We do our part to keep the environment clean and always dispose of waste safely and lawfully. We also service sand traps and grease traps. Besides our basic services, we have plenty to offer new and returning customers. Take a look at why we're continually chose for portable toilets and affiliated septic work:
We've been in business for 20 years.
We offer services around your schedule and specifications.
We're available for last-minute services and rentals for porta-potties.
We're Pumper and EPA Certified.
We offer a variety of porta-potties to fit your specific needs and budget.
How Can We Help You?
If you're in need of septic repair or portable toilets in Clovis, NM, leave your information here. We'll be in touch shortly.
Areas Served
Proudly serving Clovis, NM and the surrounding areas with portable toilets, including:
Lake Sumner, NM
Taiban, NM
Melrose, NM
Elida, NM
Portales, NM
Milnesand, NM
Pep, NM
Broadview, NM
Grady, NM
Muleshoe, TX
Farwell, TX
Dimmitt, TX
Canyon, TX
Hereford, TX
Friona, TX
San Jon, NM
Tucumcari, NM
McAlister, NM
House, NM
Curry County, NM
Texico, NM
Roosevelt County, NM
Sudan, TX
Amherst, TX
Bovina, TX
Parmer County, TX
Bailey County, TX